Eyes for You
Eyes for You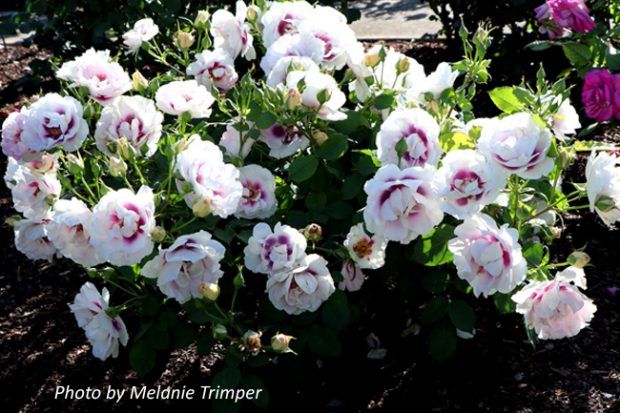 EYES FOR YOU
Floribunda  (PEJbigeye)
Looking for something completely different in a rose – well you've found it.  'Eyes for You' is certainly unusual and has caused great excitement in the rose world! It is so different the general public does not yet recognise this variety as a typical rose cultivar, despite the fact it was bred 14 years ago and introduced in the UK in 2009 and in Australia in 2012 by Brindabella in Queensland.
It took three decades of breeding using Hulthemia persica (syn. Rosa persica) to produce a rose with a fixed contrasting colour spot at the base of each petal, giving it the appearance of an 'eye' reminiscent of poppies and peonies. (R. hulthemia persica was found in Iran and taken to France in 1788.)
Jack Harkness in the UK began experimenting in 1974 to combine the eye of Rosa persica into modern roses to create a new style of rose. Unfortunately, the "persica" seedlings were weak, prone to disease and mostly sterile. Harkness produced one fertile seedling named "Tigris".
In the 1980's an English amateur breeder, Chris Warner, bought a plant of "Tigris" and began hybridising.  Warner eventually made crosses with a rose named "Baby Love" because of its disease resistance. Warner produced 6 seedlings in 1986 however after years of hybridising with them nothing viable was produced. Luckily, Chris' friend, amateur rose breeder Peter James hit the jackpot when he crossed one of these seedlings named 'Tingle' with his rose 'Blue For You' and created a pretty, perfumed Floribunda named 'Eyes For You'.
This rose has clusters of cupped, semi-double, pale mauve-white blooms with a large deep purple eye at the base of each petal and attractive golden stamens. The rose has a lovely strong, fruity, damask fragrance. It grows to approximately 1m x 1m, has excellent repeat flowering, very healthy foliage, is easy to grow and is heat tolerant.
Years of hard work, good judgement and good luck combined to produce a truly wonderful new rose which makes a great display in the garden.
Available from Knight's Roses, Wagner's Rose Nursery, Newman's Nursery, Treloar Roses and Rose Sales Online.
AWARDS:
SILVER MEDAL           Nagaoka Int'l Fragrant Rose Trials, Echigo Hillside, JAPAN  2012
CERT. of MERIT            Bagatelle Rose Trials PARIS                                                        2011
Text and Photos:  Melanie Trimper