Shirley's Rose
Shirley's Rose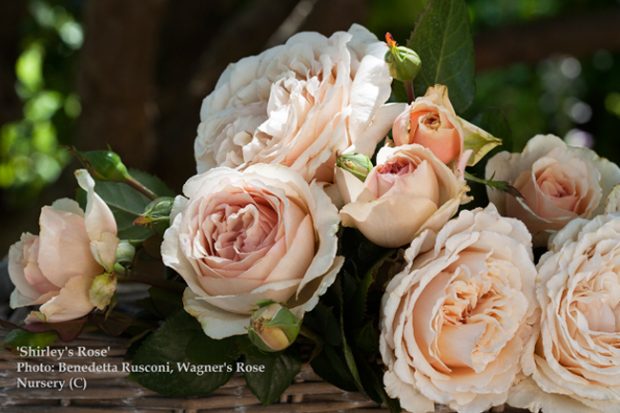 SHIRLEY'S ROSE
Modern Shrub Rose
'Shirley's Rose' is an intensely fragrant modern shrub rose bred by award-winning Australian rose breeder the late Mr. Bruce Brundrett, (1940-2022), in Victoria, before 2012 and was introduced in 2016 by Wagner's Rose Nursery in South Australia.
This rose produces large, fragrant, fully double blooms with a romantic old-world rose appearance. Each bloom has up to 40 petals in an unusual rich peach-apricot colour framed by the softer ivory outer petals.
The bush is vigorous with good disease resistance and features long stems and long-lasting flowers making it ideal as a cut flower. It grows to a height of 1.5m and, typical of a modern shrub, has excellent repeat flowering throughout the growing season.
Shirley's Rose was named in honour of Bruce's wife and was released as a fundraiser for research into Pancreatic Cancer.
Bruce Brundrett passed away on 11 November 2022 and will be remembered as one of Australia's most successful rose breeders. Bruce left a legacy of 10 very successful roses he released commercially and there are still many more to come, currently maintained by his agent, Brian Wagner.
Shirley's Rose is available as a bare rooted rose in winter months and a potted bush rose from spring onwards and is currently in stock at Wagner's Rose Nursery. www.wagnersrosenursery.com.au
Photo: Courtesy of Benedetta Rusconi, Wagner's Rose Nursery