Red Intuition
Red Intuition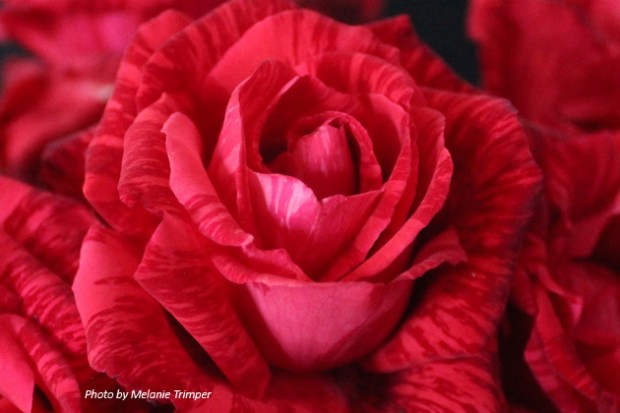 Red Intuition
Hybrid Tea
There is no other rose in the world like 'Red Intuition'. It is a beautiful, striking Hybrid Tea rose introduced in 2000 as part of renowned French Rose Breeder Delbard's  "Painter's Collection".  Each rose in the Painter's Collection is multi-coloured with different colours displayed as stripes or splotches.
Red Intuition is a unique dual red striped rose – the petals are an exuberant Cardinal red with deep blood red stripes. It is a very eye-catching rose which commenced its career as an impressive cut-flower rose winning the prestigious "Cut Rose of the Year Award" in 2000 before making the transition to the home garden.  As a cut flower it has excellent long stems, superb vase life of up to 10 days and repeat blooms exceptionally well.
Red Intuition is a moderately tall rose, up to 1 ½ metres in height and enjoys our hot dry climate. Flowers can be carried as one bloom per stem or in small clusters. Resistance to Black Spot, Mildew and Rust is reasonable.
This popular, free flowering, showy rose has gained a reputation worldwide among flower arrangers and florists given its unusual blend of reds, classic shape with a high pointed centre and lovely long stems.