Pierre de Ronsard
Pierre de Ronsard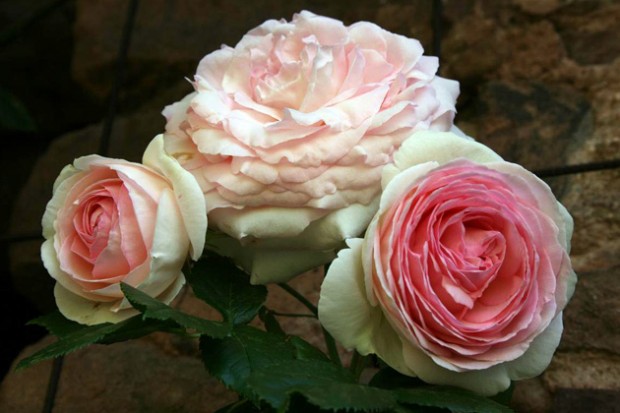 PIERRE de RONSARD
Large Flowered Climber
Pierre de Ronsard is a moderately vigorous, climbing rose ideal to cover an arch or small trellis. Bred in France, by Meilland and introduced in 1987, Pierre de Ronsard is a very disease resistant rose. The 7 to 10 cm globular flowers comprising 55 to 60 petals are a very attractive creamy white suffused with carmine pink borne singularly or in clusters up to 4 blooms on reasonably sturdy stems. Adding to its seductive, colourful display these flowers have a light, delicious tea rose fragrance. Flowers last reasonably well when picked for floral arrangements. This rose has performed well throughout the world and thrives in our South Australian climate.
When grown against an arch, the plant can achieve heights around 3 metres, so it is preferable to plant a rose each side of the arch to achieve a complete and even cover in 3 to 4 years. Regular removal of spent blooms will ensure repeat and constant flowering throughout the growing season.
Pierre de Ronsard does have a few thorns implying the arch needs to be at least 1.5m wide to avoid being caught by thorns when passing through the arch. For romantics, an arch of Pierre de Ronsard provides a classic framework setting for photography, such as wedding photographs.
Due to its popularity Pierre de Ronsard is readily available to purchase.
The rose name honours Pierre de Ronsard (B.1524 – D.1585). Pierre de Ronsard was a famous French Poet whose 16th Century poetry earned a place in literary history. He enjoyed a great life: well educated, well-travelled, highly productive, popular and he mixed socially, as friends, with royals such as King Charles of France, Queen Elizabeth I of England and Mary Queen of Scots. His own generation, in France, called him the "Prince of Poets".
MAJOR AWARD: 2006 World's Most Popular Rose as voted by World Federation of Rose Societies – announced at the 14th World Rose Convention held in May 2006 in Osaka, Japan.
Pierre de Ronsard is known as Eden Rose ® or Eden Climber ™ in the USA and Germany.
Photo by Corporate Roses and Melanie Trimper