Manita
Manita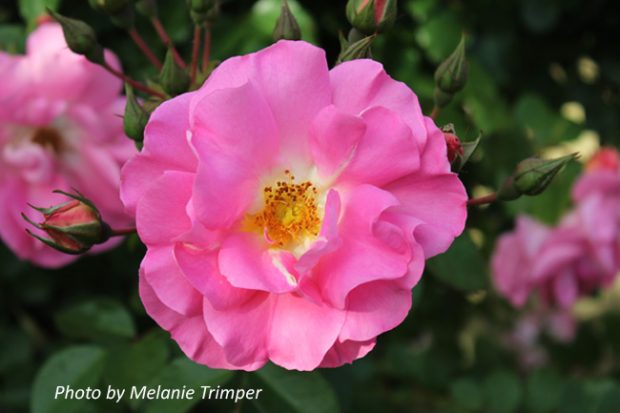 MANITA
KORberuhig
Large-flowered Climber / Pillar
'Manita' is a Large-flowered Climber bred by W. Kordes and Sons, in Germany, in 1996.  Kordes has earned a reputation for producing vigorous and prolific flowering roses with a focus on healthy plants.
Manita was a winner in the German ADR rose trials in 1997. ADR roses are tested at 11 sites in Germany with emphasis on disease resistance in response to the demand for healthy garden roses.
The semi double, pink blooms have wavy petals with a white centre, bright yellow stamens and a mild fragrance. The blooms average 9cm in diameter with 10 – 16 petals. Manita produces small to large clusters of six to eighteen flowers on a stem which are complemented by healthy glossy green foliage.
The canes are easy to train onto a trellis and will grow 2.5m tall by 2m wide or they can be wrapped around and up a 2m pillar. A great performing rose.
Manita blooms in flushes throughout the growing season and can create a pleasing backdrop in any garden. If chosen to screen off a boundary, the thorns can act as a deterrent to intruders.
This rose can be purchased from Treloar Roses.
AWARDS:
ADR Award                                                              Germany                    1997
Gold Medal               Hradec Kràlove                    Czech Republic        2000
Certificate of Merit  Belfast                                    Northern Ireland      1999