Lamarque
Lamarque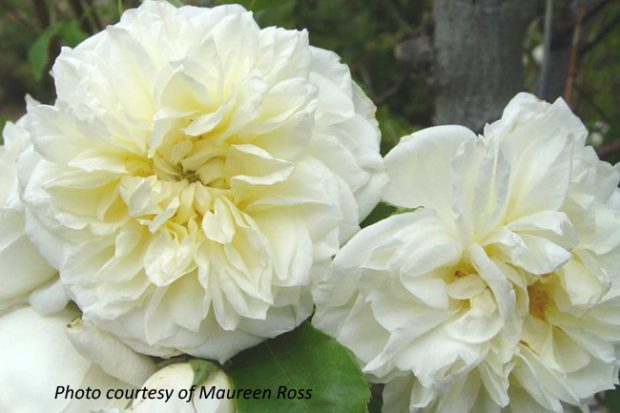 'LAMARQUE'
Noisette
 'Lamarque' was raised, so the story goes, by an amateur rose hybridiser in a window box in Angers, France. However, some experts regard Marechal as the Breeder who produced Lamarque in 1830 from a cross between 'Blush Noisette' and 'Parks' Yellow Tea-scented Rose. In modern catalogues today, it is regarded as an Old Garden Rose and classified as a Noisette.
It was named in honour of General Jean Maximilien Lamarque a French General (1770-1832).  Following the revolution, his death was the catalyst for the Parisian June Rebellion of 1832 which provided the background for events depicted in Victor Hugo's novel, "les Miserables".
'Lamarque' is an exceptional climbing rose which is both healthy and hardy. It is a beautiful rose with blooms 7-8 centimetres in size which are borne in clusters and in great profusion. The white blooms have a yellow centre, are full and quartered and have a lovely, intense fragrance resembling violets.
This climber flowers profusely from spring well into autumn with a backdrop of smooth, mid-green leaves. It produces long trailing canes with small hooked prickles and can grow up to 6 metres in one year once established.
The use of 'Lamarque' as a tall weeper should also not be overlooked as its canes are pliable and tend to naturally cascade downwards. It also looks delightful when grown along a fence or over a large arch or trellis.
'Lamarque' loves our warm climate but if pruned too severely, it will sulk and produce few blooms. All that is needed is dead heading and the removal of dead wood.
This rose is available from Wagner's Rose Nursery, Newman's Nursery, Ross Roses and Treloar Roses.
Text: Maureen Humphries
Photos: Maureen Ross and John Zwar