Iceberg
Iceberg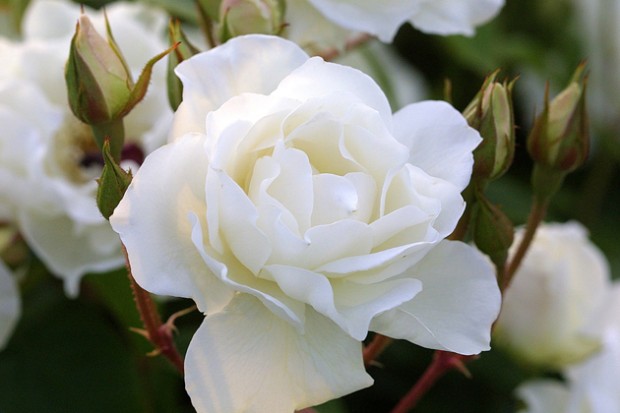 ICEBERG
(KORbin)
Floribunda
Famous Rose Breeder, Sam McGredy, was asked if he had to choose just one rose to take to an island paradise, what it would be. He answered, "Iceberg". Another rose expert, Eric Trimper, said "Iceberg will never let you down."
Iceberg is one of the world's most popular Floribunda roses, a universal best-seller for decades and well known for its hardiness in all rose-growing regions tolerating both hot and cold temperature extremes.
Iceberg was hybridized in 1958 by Reimer Kordes in Germany. It can be grown as a tall bush, a well performing climber or excellent standard. Popular with home gardeners and professional landscapers, it is seen everywhere. It is famous for its low maintenance and rapid repeat flowering, producing large and small clusters of beautifully shaped white double blooms all season long. Iceberg has healthy light green leaves and is very disease resistant.
Flowers are generally borne in clusters of up to 7 blooms per stem. Each flower contains 25 to 35 soft, delicate white petals, sometimes with a pink blush in cold weather, and displays an attractive fruity fragrance.
The bush grows up to 1.5m x 1.5m and its consistent growth and size make it perfect for use as a standard rose. It is the most commonly used standard rose for fences, borders or public spaces in Australia. It is also excellent as a potted rose. Generally, avoid severe pruning.
Iceberg deserves its iconic reputation having won Gold Medals in numerous rose trials around the world and was inducted into the World Federation of Rose Societies' Rose Hall of Fame in 1983.
Two recent sports are 'Brilliant Pink Iceberg' and 'Burgundy Iceberg'. To obtain a good quality rose only buy from reliable suppliers.
Photo by Ruston Roses