Ebb Tide
Ebb Tide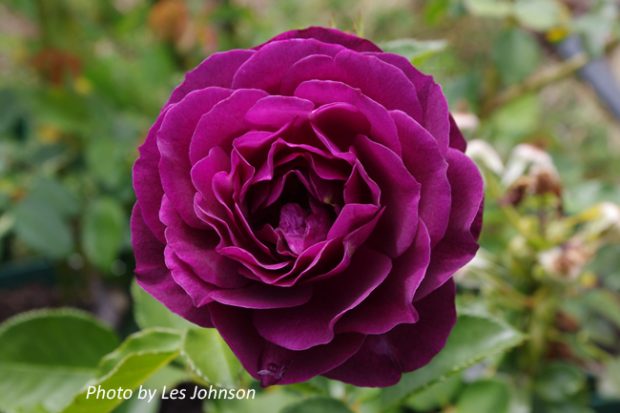 EBB TIDE
Floribunda
(WEKsmopur)
'Ebb Tide' is a Floribunda rose bred by Tom Carruth, in the USA, in 2004 and released by Weeks Roses.
The rose has the two outstanding features of showy, novel, mauve blooms and a delightful strong fragrance.
The dark purple buds open to deep purple, double, old-fashioned rosette blooms.  The flowers 8-10 cms in size are described as velvet plum washed with a haze of sultry smoke with a petal count exceeding 35.  The cooler autumn months usually bring a darker colouration.  The flowers are borne in clusters with regular single stems.  The intense spicy clove fragrance is a major selling point for Ebb Tide.
The bushy growth habit is upright with medium size dark green, semi glossy foliage.  The almost straight prickles are average in size and are not present in heavy numbers.  In good growing conditions the compact, rounded growth habit can reach 90 cms by 75 cms wide, but a height of 60 – 80 cms is more common.  The plant has excellent pest and disease resistance.
Ebb Tide boasts a complicated parentage that includes three other outstanding mauve roses, Big Purple (Stephens 1986), Blue Nile (Delbard 1980) and Sweet Chariot (Moore 1985).
A very reliable rose, Ebb Tide blooms in flushes throughout the growing season.  Available as a standard or bush, Ebb Tide can be used for beds, borders and containers.  The rose makes an attractive statement in the garden or in cut flower arrangements.
Ebb Tide is available from Knight's Roses, Wagner's Rose Nursery, Treloar Roses and Newman's Nursery. The rose comes highly recommended.
Awards:
Certificate of Merit     National Rose Trial Garden of Australia           2005
Most Fragrant Rose   Rose Hills International Rose Trial USA            2011
Text : Les Johnson