Blackberry Nip
Blackberry Nip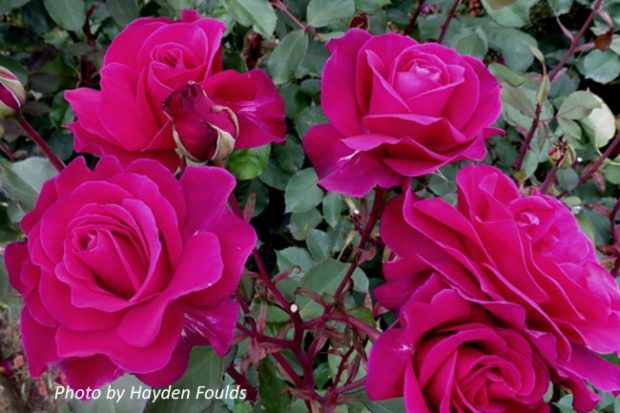 BLACKBERRY NIP
HYBRID TEA
(SOMnip)
'Blackberry Nip' was bred by Rob Somerfield in Tauranga, New Zealand, in 1996. This rose has been named after Blackberry Nip, a liqueur style wine some of you may remember.
Blackberry Nip has shapely, deep purple plum blooms with 35 – 40 petals and a strong alluring perfume, produced on long stems usually one to a stem. An ideal home gardener's picking rose.
Spent flowers drop their petals and hips are rarely formed, reducing the need for dead-heading. This rose has distinctive silvery grey foliage and has good disease resistance. It has a nice compact and bushy growth habit of 0.8m–1.5m tall and 1m wide, making it suitable for garden beds, borders or to grow in a large container. The bush can be quite thorny, however the thorns can be easily removed with the thumb and forefinger.  Blooms in flushes throughout spring, summer and autumn.
Blackberry Nip is available from Newman's Nursery, Wagner's Rose Nursery, Treloar Roses and Tesselaar.
AWARDS
Silver Star of the South Pacific       Palmerston North Rose Trial  NZ 1998
Certificate of Merit                           Palmerston North Rose Trial  NZ 1998
Rose of the Year                               Auckland NZ 1999
Fragrance award winner                 Auckland NZ 1999
Text:                 Sharyn Perrin