Edgar Degas
Edgar Degas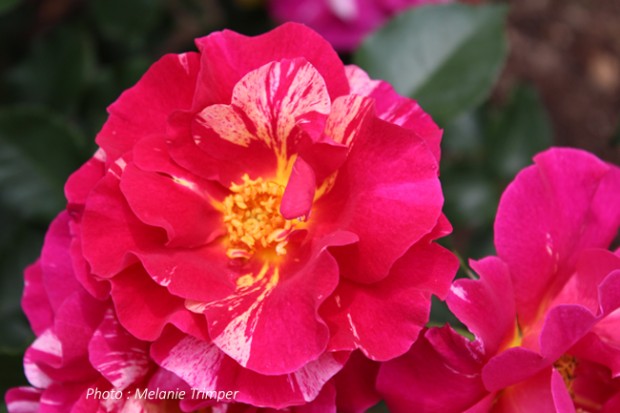 EDGAR DEGAS
Shrub Rose
'Edgar Degas' was introduced by Rose Breeder Guy Delbard of Delbard Roses in France. It is a sport of 'Henri Matisse' and was discovered in June 1994 growing among plants of 'Henri Matisse' in a greenhouse in Hyeres, France.
This unusual semi-double rose (with 40-48 petals and 9cm in diameter) has raspberry hot pink and buttery yellow stripes with a light fragrance and glossy dark green foliage.
Roses are produced either solitary or in small clusters of 3 or 4 per stem. This popular shrub rose blooms in flushes throughout the season and is known for its excellent disease resistance, vigorous growth and tough foliage. It can be grown as a normal bush 1.2m by 1.2m or trained as a pillar or on a trellis to 2 metres high.
This rose was named after the famous French painter Edgar Degas and is from Delbards 'Painter Series'. These are exceptional roses as each bloom features a different pattern of colouring. Some of the other great roses in this collection are 'Alfred Sisley', 'Claude Monet', 'Grimaldi', 'Maurice Utrillo' and 'Paul Cézanne'.
In South Australia, two nurseries specialise in Delbard Roses – Newman's Nursery at Tea Tree Gully and Wagner's Rose Nursery in the State's South-East.